Getting your teeth straightened without having to sport a metallic grin for months seems like a dream come true. But do removable Invisalign clear aligners work as well as traditional metal braces?
The answer is … it depends on your teeth.
Will Invisalign Work for Me?
Begin by finding a dentist who is trained to work with Invisalign. During your first visit, you'll get a checkup, x-rays, and molds of your mouth/teeth will be taken. The molds will be evaluated, and within 7-10 days you'll know whether Invisalign treatment is suitable for your teeth. You'll also know whether you need any other dental work done – such as fillings, a root canal, etc. If Invisalign is not the best choice for your teeth, your dentist will discuss other options with you.
If you and your dentist have agreed that Invisalign is right for you, you'll get access to an online, private site outlining your treatment plan, and mapping out in detail how your teeth will be changing over time.
Your dentist will also tell you how long the treatment is likely to take. Often, the treatment time will be defined as how many sets of aligners (also called "trays") will be required to move your teeth into the desired position. If your dentist says, for example, that you'll need 14 sets of aligners, you can usually choose whether to finish the treatment in a little over a year (one new aligner a month) or 7-8 months (new aligners twice a month).
Some people choose the once-a-month plan to reduce the number of dental appointments, and the slight discomfort associated with adjusting to new aligners. Others just want to get their new smile ASAP. Be aware that treatment time may be extended or shortened, depending on how your teeth respond to treatment.
How Invisalign Straightens Your Teeth
Invisalign clear aligners are custom-made out of a proprietary, multi-layer material that the company calls "SmartTrack." It's a very elastic material that is FDA-approved and contains no BPA, BPS, latex, or gluten. SmartTrack stretches over teeth, making the aligners easy to insert and remove. The material is also strong enough to provide the constant, gentle force needed to shift teeth into the desired new position. Invisalign says that their aligners can move teeth both horizontally and vertically and even rotate them.
Depending on your treatment plan, your dentist may need to place either "attachments" or "ridges" (or both) to help the aligner grip the teeth. Attachments are tiny pieces of tooth enamel-colored composite the doctor affixes to your teeth. Ridges are indentations placed in your aligners that enable them to grip the attachments.
As noted above, you'll usually get a new set of aligners every two or four weeks. Traditional metal braces also need to be adjusted as treatment progress, which involves tightening the wires that connect to the brackets glued onto the teeth. Getting a new tray is more comfortable than getting wires tightened, but your mouth will probably be a little sore for a few days every time you switch.  You may also experience dry mouth during the initial adjustment period. If it persists, or you're uncomfortable despite drinking enough water, talk to your dentist. The first week tends to be the most challenging.
Wearing and Caring for Invisalign Aligners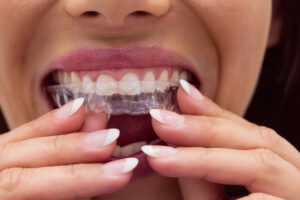 You'll need to wear your aligners pretty much constantly for the treatment to work as intended. You take them off when you're eating or drinking anything but plain water, and to clean them. Be patient at first when you're removing them, the aligners don't slide off easily. Ask your dentist for tips on how to remove them, and expect that it will get easier with practice.
After Invisalign Treatment
Dentists usually recommend wearing a retainer after completing any kind of orthodontic treatment, to keep your teeth from sliding back into their original position. You should be aware that you may need to wear a retainer for the rest of your life.
 Invisalign recommends Vivera Retainers, which look and feel similar to Invisalign trays but are made of a tougher material. You can also opt for the traditional removable wire retainer, a single band of bendable wire that loops over the front of your teeth and is attached to a plastic top that sits on the roof of your mouth. Permanent retainers, a thin wire bonded to the back of your teeth, are another possibility. Discuss with your dentist, but don't feel like you can skip having a retainer or can use your last Invisalign tray as a retainer – your teeth will almost certainly stray back to their old position.
What Is A Dental Bridge? Click here to know! 
Is Invisalign Worth It?
Orthodontic treatment is definitely worth getting, as straightened teeth have other benefits besides making your smile look great. Orthodontic treatment can prevent:
Tooth decay

Gum disease

Tooth loss

Difficulty in speaking clearly

Difficulty in chewing properly

Abnormal wear to tooth enamel

Jaw problems

Headaches
Invisalign has specific benefits when compared to metal braces. The big selling point, of course, is that they are almost invisible. And they are removable, so you can take them out for the occasional special occasion. You must take them out to eat, drink and clean them, but that's much easier than cleaning food particles out of traditional braces. And since there are no metal brackets or wires, Invisalign treatment tends to be more comfortable. Metal braces can really irritate your mouth.
How much does Invisalign cost?
Invisalign is slightly more expensive than traditional metal braces.

Metal braces (traditional braces) cost $1,500 – $5,000.

Invisalign® aligners, clear plastic devices that fit over teeth and can be removed temporarily when the wearer chooses, cost $2,500 – $7,000.
The cost of treatment depends on numerous factors, including the complexity, method and estimated length of treatment.