Taking your child to the pediatric dentist for the first time can be a daunting experience. The thought of seeing their little mouths being poked and prodded may send chills down your spine, but that doesn't have to be the case! By preparing your child beforehand, you can make their first dental appointment less scary and more enjoyable. In this blog post, we'll provide you with some helpful tips on how to prepare your child for their first visit to the pediatric dentist so they can feel comfortable and even excited about it!
Pediatric Dentistry
If you're like most parents, you probably have a lot of questions about pediatric dentistry and how to prepare your child for their first dental appointment. Here's a quick introduction to pediatric dentistry and what you can expect.
Pediatric dentistry is the branch of dentistry that deals with the oral health of children from birth to adolescence. Pediatric dentists are specially trained to meet the unique needs of children, including those with special healthcare needs.
The American Academy of Pediatric Dentistry recommends that children have their first dental visit by age 1 or within 6 months after their first tooth erupts. This early visit is important because it allows the dentist to assess your child's oral health and development and to establish a dental home.
During the first visit, the dentist will:
Examine your child's teeth and gums

Check for signs of tooth decay or other problems
Discuss your child's diet and oral hygiene habits
Offer tips on how to care for your child's teeth and gums
Discussing the Visit with Your Child
It's important to have a discussion with your child about their upcoming visit to the pediatric dentist. Here are some things to keep in mind:
Explain what the pediatric dentist does and why it's important to see one.

Describe the process of the visit, including what will happen during the examination and cleaning.

Reassure your child that they will be safe and comfortable during the visit.

Let them know that they can ask the dentist any questions they may have.

Encourage them to brush and floss their teeth regularly so that they can stay healthy and avoid having to see the dentist too often.
Preparing Your Child Ahead of Time
If your child is anxious about going to the dentist, there are a few things you can do to help them feel more comfortable ahead of time. First, try to find a pediatric dentist who has experience working with children and who can make the experience fun for them. You can also ask the dentist if they have any educational materials or apps that your child can use to learn more about what to expect during their appointment. Finally, make sure you schedule the appointment at a time when your child is well-rested and not hungry so that they're in a good mood and ready to cooperate.
After the visit, it is important to debrief your child. Talk about what happened during the appointment and allow them to ask any questions they may have. It is also important to reinforce positive behavior by telling them how well they did. Finally, make sure to schedule their next appointment so they know when to expect to come back.
Tips for Long-Term Oral Care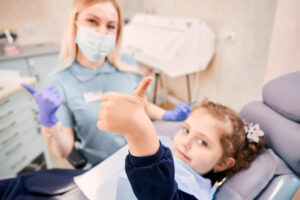 Schedule regular check-ups with the pediatric dentist to ensure that your child's teeth are healthy and strong.

Teach your child proper oral hygiene habits, such as brushing their teeth twice a day and flossing regularly.

Avoid sugary drinks and snacks that can damage your child's teeth.

Make sure your child is using the proper size toothbrush and toothpaste for their age.

If your child has any existing dental problems, be sure to discuss them with the pediatric dentist so they can develop a treatment plan.
Final Thoughts
Preparing your child for their first visit to the pediatric dentist is a crucial step in ensuring that it goes as smoothly as possible. Taking the time to talk about what will happen during the appointment and helping them feel comfortable with the dentist and their surroundings can make a huge difference in how positive of an experience they have. We hope these tips have helped you understand how best to prepare your child for their first trip to the pediatric dentist so that they can look forward to future visits with confidence.
Also, read / Dental First Aid Kit: Importance and Tips