Slightly misshapen, misaligned or discolored teeth can make you feel you have an unattractive smile—even if your teeth are otherwise healthy. You may even be too embarrassed by these small defects to fully share your smile with others. Porcelain dental veneers are an effective and relatively affordable way to mask many of these minor imperfections by literally "putting a new face" on your teeth. Strong and durable, veneers can last for many years with proper care.
Improving the Shape, Color and Appearance of Teeth
The term "veneer" refers to any thin covering placed over another surface. This aptly describes the dental veneer: thin layers of dental porcelain (a type of ceramic fired in an oven) forming a thin covering for tooth enamel.
Porcelain veneers give teeth with slight defects an entirely new look. Worn teeth tend to develop sharp edges or can appear small; veneers can give the teeth softer, rounded edges for a more youthful facial appearance, as well as extend tooth length to a more visually appealing size. Veneers can give teeth just out of alignment or with slight gaps a straighter, more proportioned appearance. And, the wide spectrum of color possibilities of veneers allows them to seamlessly blend with the color of other teeth.
Veneers, however, may not be the right solution for misaligned teeth caused by poor bites (malocclusions) or jaw profiles, or moderate amounts of tooth structure loss. These kinds of problems may require other restorative options, although veneers may play a supporting role. And though not as invasive as other restorations, veneers usually require some permanent removal of tooth structure. This ensures that the tooth will not appear too bulky.
Porcelain Veneers For Crooked Teeth: Can They Help? 
A Precise Process for a Successful Outcome
Step 1: Smile Analysis and Treatment Planning
Like other cosmetic dental techniques, veneer treatments begin with a smile analysis. After examining your teeth, your dentist will measure your face and use other means to formulate the appropriate size and shape of your veneers so that they match your face and jaw structure. He or she will also develop the right color match to your other teeth.
You may even be able to view how your proposed veneers will look through a computer simulation or with "Before" and "After" photographs using acrylic plastic veneer models placed on your teeth. This gives you a chance to consider your new look—or get your friends' and family's impressions—before finalizing your treatment plan at your next dental visit.
Step 2: Tooth Preparation and Impression
The next step involves determining whether the teeth require preparation or reduction in size. Often necessary, the teeth will need some tooth structure removed from the front, sides and biting edges to accommodate the veneers.
Step 3: Custom Veneer Fabrication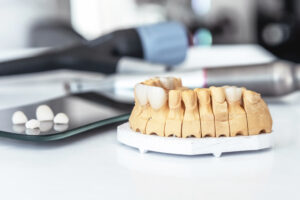 Once prepared, the dentist will make an impression (mold) of your teeth, which will be sent along with your plan details to a dental laboratory. A lab technician will use your mouth impression and specifications to create the veneers from porcelain dental material for a custom fit. This process takes about a week before delivery to your dentist.
Step 4: Bonding the Veneers
Bonding the veneers to your teeth first requires an etching process on the tooth surface; this creates microscopic pores that will "lock in" the reactive agent used for bonding the veneer to the tooth. Your dentist will then carefully place and permanently affix the veneer to your tooth using the bonding agent. This process, along with the precise fit of the veneer, produces a bond so strong and unified that a dental drill would be necessary should the veneer ever need removal.
Caring for Your New Porcelain Dental Veneers
Advancements in materials and technology have improved the durability and longevity of veneers. It's not uncommon for a veneer to last up to twenty years—assuming, of course, they're cared for properly.
Veneers are quite durable under normal hygiene conditions—you can brush and floss them as usual, albeit with a non-abrasive fluoride toothpaste. Veneers also aren't prone to staining; however, if your natural teeth become stained, the color difference between the natural and veneered teeth may become noticeable. You should take precautions against staining, or undergo occasional teeth whitening treatments to help maintain a uniform color.
While veneers are quite strong, the porcelain can crack or shatter under abnormal pressure. You should therefore avoid biting down on hard-surfaced items like pencils or nails. If you're prone to stress-related habits like teeth-clenching or grinding (bruxism), your dentist can design an occlusal (bite) guard to wear at night to prevent teeth from biting down on each other too forcefully.
Achieving a Smile—and Life—Transformation With Porcelain Dental Veneers
Porcelain veneers offer you more than a way to change how "less than perfect" teeth look—they can also spark positive changes in how you view yourself and how you relate to others. It's also a process in which you play a pivotal role from start to finish—for a result that fulfills your desires and meets your expectations for a more attractive appearance. In the right circumstances, porcelain veneers will not only transform your smile, they can change your life.