You or a loved one needs braces – what now? How much will braces cost, how can you find affordable orthodontic treatment, and what do you need to know about getting and having braces?
In our effort to help you make informed dental care decisions, we've included answers to some of the most frequently asked questions about orthodontic treatment and braces below.
What is orthodontic treatment?
Orthodontic treatment corrects teeth that don't line up correctly ("bad bites), helping to improve oral health and enhance your smile.
How do orthodontists straighten teeth?
Orthodontic treatment realigns teeth by applying constant, gentle pressure. In the not-so-recent past, orthodontists typically used metal braces to achieve this. They would connect small brackets cemented to the teeth with a wire, which they would regularly tighten to shift the teeth into the desired position.
Today, orthodontists still utilize metal braces, but they also use ceramic, clear, and micro braces, as well as invisible aligners.
How do I find an orthodontist?
Once you've made the decision to improve your smile and dental health, the next step is to find an orthodontist. Click here to find an orthodontist in your area by searching our extensive network of dentists and dental care specialists.
Why is straightening your teeth important?
Orthodontic treatment can prevent:
tooth decay

gum disease

tooth loss

difficulty in speaking clearly

difficulty in chewing properly

abnormal wear to tooth enamel

jaw problems
What causes orthodontic problems?
Orthodontic problems are typically inherited, but they can also be acquired by developmental factors. Some of the most commonly inherited conditions include crooked teeth, crowded teeth and other irregularities of the teeth and jaw. Acquired problems can be caused by developmental factors such as thumb sucking and the premature loss of baby or permanent teeth.
How much does orthodontic treatment usually cost?
The cost of treatment depends on numerous factors, including the complexity, method and estimated length of treatment. The typical costs are:
Metal braces (traditional braces) cost $1,500 – $5,000.

Ceramic braces, which blend with the color of teeth leaving only a thin metal wire visible, cost $3,000 -$8,000.

Invisalign® aligners, clear plastic devices that fit over teeth and the wearer can remove them temporarily, cost between $2,500 and $7,000.

Lingual braces, which are made out of metal but are bonded to the inside surface of teeth making them virtually invisible when the wearer smiles, cost $5,000 – $10,000.
How long do I have to wear braces?
Generally, orthodontic treatments usually last from 18 to 30 months, with the average treatment taking 24 months. The length of treatment depends on the severity of the problem, the proposed treatment plan, the patient's age, compliance with the treatment plan, and other factors.
How do I take care of my braces?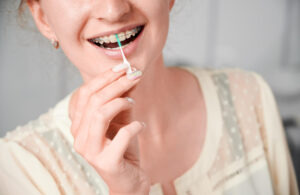 As always, it's very important to practice good oral hygiene by brushing and flossing after every meal. Hard and sticky foods should be avoided since they can damage your braces. Be sure to keep all of your orthodontic appointments and follow the instructions and recommendations given by your orthodontist.